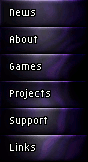 Open Beta for The Wastes 1.3 is here
Fri, 06 May 2022 13:45:30 -0700


It's Friday! We've just pushed out the current in-development build of The Wastes 1.3 to Steam's beta branch.

You'll find plenty of new stuff you haven't seen before, things should be more or less stable but a lot of content is not yet finished. We had to strip Snowbound and two other, unannounced maps because they're not ready. The Singleplayer is not representable of 1.3's final release either and file specifications aren't completely finalized - but you can have some limited fun already.

As always, let us know the things you like, or dislike in the Steampowered Forums!