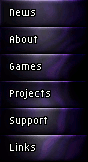 Feel free to send questions and feedback to our games and projects using the support link below.
We'll read and reply as soon as possible!

REGARDING REVIEW COPIES:
Trying to contact us about sponsorship deals or review copies will not be handled there however.
We will contact you only via the Steam® Curator Interface.
This is done because impersonation of media-outlets and key-reselling is too common.